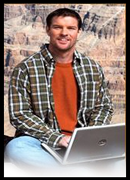 These are fantastic times we live in!
Today, computers are becoming more and more powerful, and more capable of feats beyond your wildest dreams! They are more advanced today than ever before, in mobile computing, in networking, in video conferencing, and in the new and demanding needs that we place upon them!

Today, with a simple notebook computer, you can carry "The Internet" ... with you, in that little notebook computer you carry! You can connect, by means of wifi, or cellular-based technologies, shared tethering, and yes, even dial-up! But the interconnectivity with notebook computers is ever changing, and with cloud-based resources added, information is available in so many ways that inter-connection seems to be the key element to opening up a whole new world in technology with these devices.

With that connectivity, what used to be a great tool for spreadsheets, or writing, now becomes a host to various "office" services with the added capabilities of taking your entire "office" with you - electronically! This includes your office telephone, your fax, your voicemail messenging service, your video conferencing with partners all the way across the world, and even your files - which are now almost totally converted to electronic storage ... all of these "go with you" with that little notebook computer, courtesy of the miracles of networking and today's technology!

The Power of UNIX
Utilizing the power of UNIX, in the LINUX operating system, uucpNET is here to,make available to our users as many of the features that are possible, to ensure that you fully enjoy the powerful resources available to you in our services. With your uucpNET account, and configuration of most of these built-in features and services, you will be able to utilize your account and our systems to provide you with some of the best features you will ever experience, providing you with email services, personalized signatures, a personal webpage, synchronized contacts, calendar, notes, contact profile, a public share folder, a home file storage folder in the cloud, like a Google drive or a Dropbox account, and so much more!
---